---
Screen Size (Inch): 24 Inch
Aspect Ratio: 16:9
Brightness (Typical): 250cd/m2
Contrast Ratio Static: 1000:1(Typ), 600:1(Min)
Resolution: 1920 x 1080
Model: LS24D332HSX/UE
Monitor 24 inch Samsung Entry Gaming, 4ms,75Hz,FreeSync
Screen Size (Inch): 24
Aspect Ratio: 16:9
Brightness (Typical): 250cd/m2
Contrast Ratio Static: 1000:1(Typ), 600:1(Min)
Resolution: 1920 x 1080
Response Time: 1ms (GTG)ms
Viewing Angle (H/V): 170°/160°
Super-fast response time 1ms!
Your Samsung Monitor can handle all the excitement of action movies, games and sports easily thanks to a faster response time of 1-milli second. You can see even the fastest on-screen motion clearly and smoothly without anymotion blur, judder or ghosting. There's no lad during gaming, so it won't let you down at a crucial moment.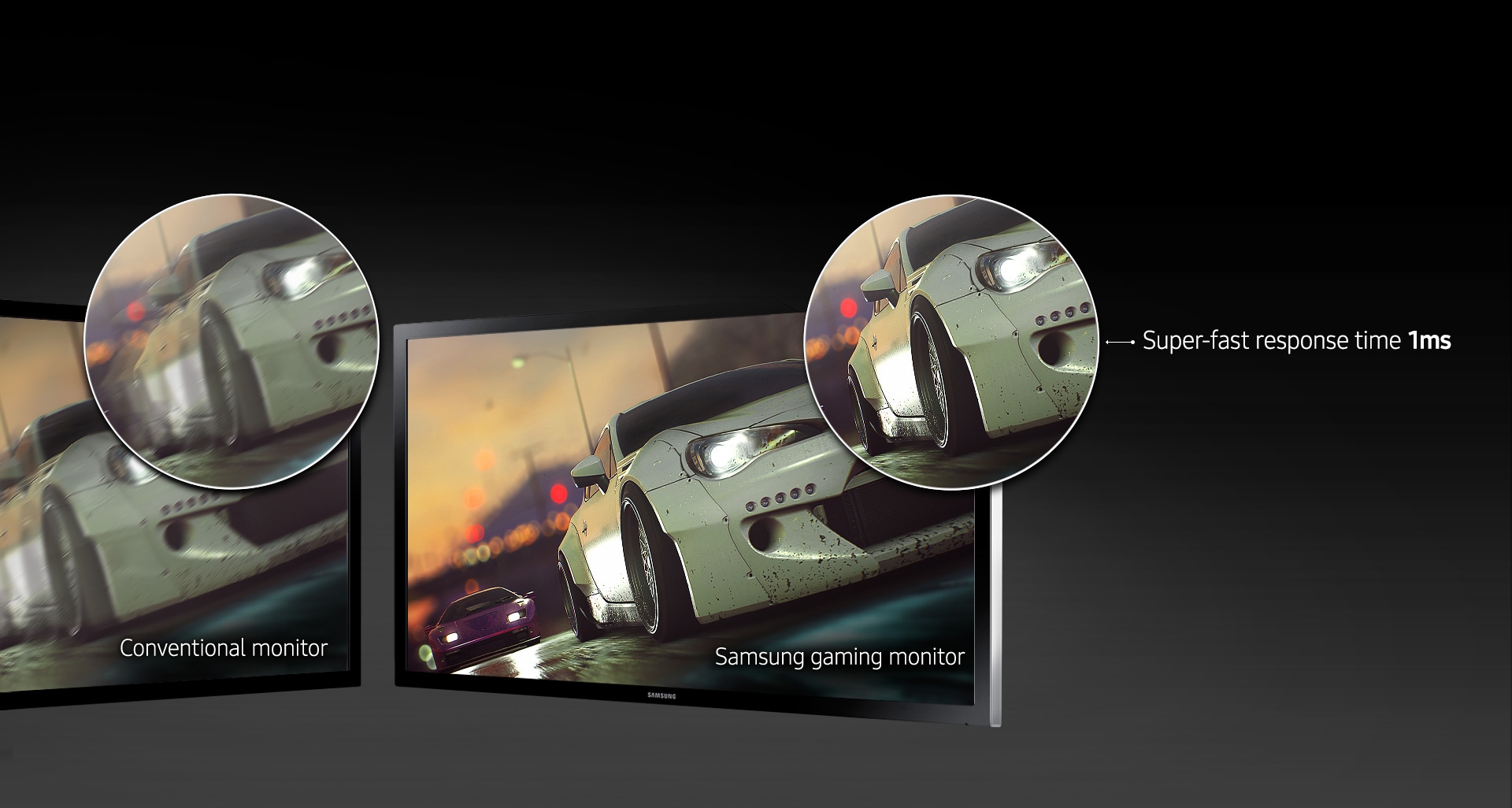 Experience darker blacks with Game mode
Instantly optimizing screen colors and contrast for gaming, Game Mode ensures you get to see game scenes at their best.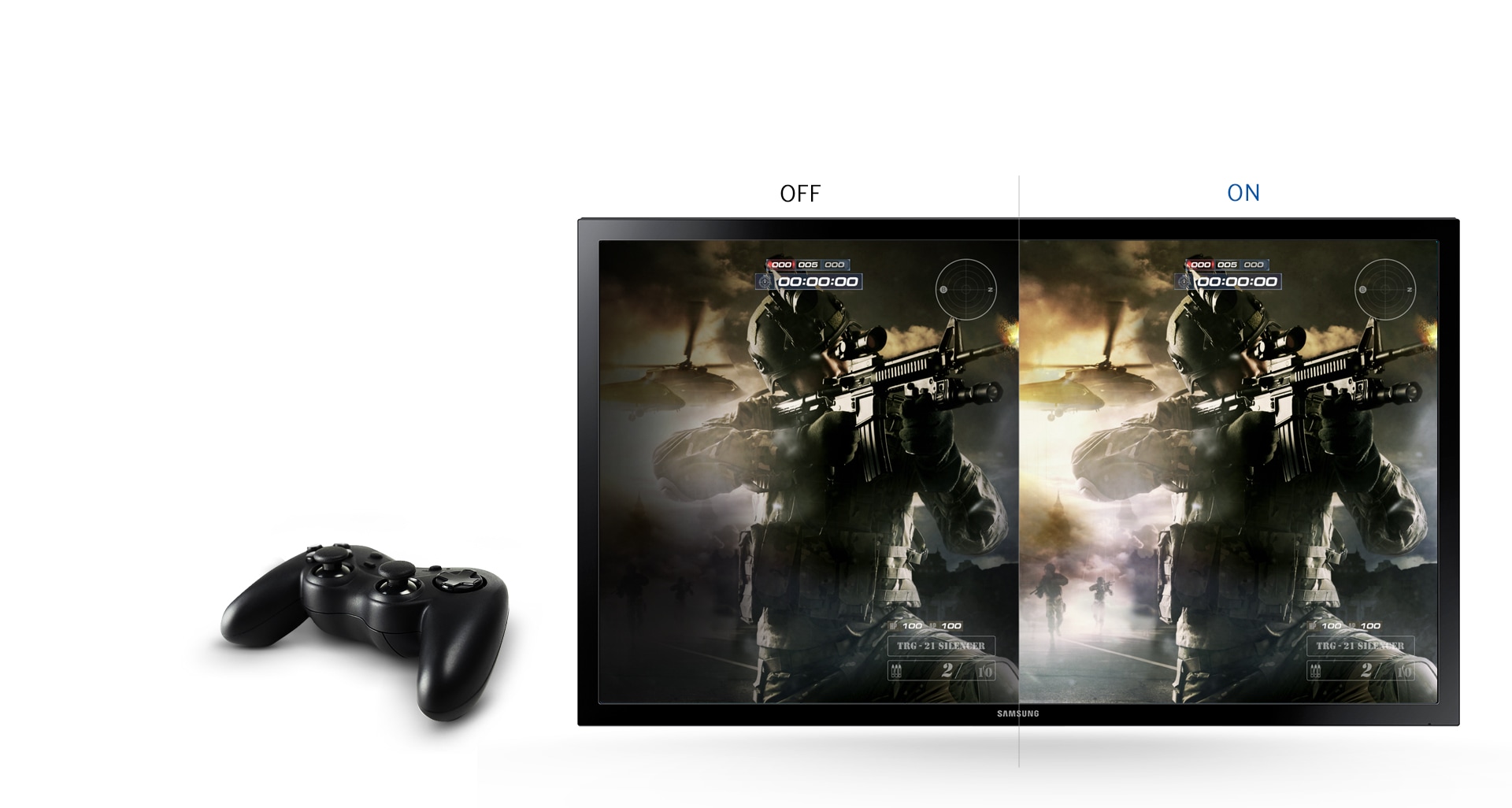 Give comfort to your eyes with Flicker Free
Flicker Free technology protects your eyes from the constant strain caused by flickering screens on conventional monitors so you can work and enjoy reading, playing games, watching movies, and editing photos for longer without eye fatigue. Have a more pleasing immersive visual experience with Flicker Free.
Save energy and the environment with this eco-friendly monitor
• Eco Saving Plus: Eco-saving technology reduces screen brightness for increased energy efficiency. In addition to the two standard manual settings (Minimum at 25% and Maximum at 50%), there is now a brand new Auto Setting that reduces energy up about 10%*, based on the luminescence of the screen's black sections.The screen brightness transitions fluidly while simultaneously saving energy. • PVC Free: Monitor mechanisms and circuits are constructed without PVC** making for an eco-friendly device, lessening environmental impact. * Based on internal testing * * Some cabling contains PVC
Specifications
Aspect Ratio16:9
Brightness (Typical)250cd/m2
Contrast Ratio Static1000:1(Typ), 600:1(Min)
Resolution1920 x 1080
Response Time1ms (GTG)ms
Viewing Angle (H/V)170°/160°
Specifications Detail
Display
Screen Size (Inch)24
Aspect Ratio16:9
Panel TypeTN
Brightness (Typical)250cd/m2
Brightness (Min)200cd/m2
Contrast Ratio Static1000:1(Typ), 600:1(Min)
Dynamic Contrast RatioMega
Resolution1920 x 1080
Response Time1ms (GTG)
Viewing Angle (H/V)170°/160°
Color Support16.7M
Refresh Rate75Hz
General Feature
Samsung MagicAngleYes
Samsung MagicBrightYes
Samsung MagicUpscaleYes
Eco Saving PlusYes
Game ModeYes
Image SizeYes
Additional PC S/WEasy Setting Box
Windows CertificationWindows 10
Interface
D-Sub1 EA
Dual Link DVINo
HDMI1 EA
Operation Conditions
Temperature10~40 ℃
Humidity10~80 (non-condensing)
Design
ColorBlack high glossy
Stand TypeSimple
Tilt-1°(±2°)~20°(±2°)
Eco
Power
Power SupplyAC 100-240
Power Consumption (Max)30 W
Power Consumption (Typ)25 W
Power Consumption (DPMS)0.3 (Typ.)
Power Consumption (Off Mode)0.3 (Max)
TypeExternal
Dimension
Set Dimension with Stand (WxHxD)569.0 x 417.2 x 197.0 mm
Set Dimension without Stand (WxHxD)569.0 x 342.1 x 53.9 mm
Package Dimension (WxHxD)635 x 111 x 408 mm
Weight
Set Weight with Stand (kg)3.15 kg
Set Weight without Stand (kg)2.80 kg
Package Weight (kg)4.40 kg
Accessory
HDMI CableYes
Quick Setup GuideYes